Fort Stanton, Capitan, NM
Fort Stanton, Capitan, NM
It was raining yesterday so I thought it might be a good idea to spend this beautiful day outside. Besides I didn't go shopping and realized that only when I parked, leveled and set up everything for a nice couple of days stay. According to the map there was a town Capitan just 5 miles away with some grocery store so I decided to go by bicycle. Another decision making factor was that my MotionX GPS app showed few trails I might get to cut those 5 miles to 3.
So I packed my small backpack and left. So far easy dirt road and nice views 🙂
Once I got to the highway I've found myself surrounded by old buildings with a sign 'Fort Stanton museum'. Since visiting all the small places on my way was my idea of traveling I couldn't just pass. As per their website: 'The Fort Stanton Historic Site is a must-see attraction when visiting Lincoln County. Nestled on Highway 220 that bisects the Billy the Kid Scenic Byway, New Mexico's newest historic site features over 155 years of southwestern history ranging from its initial creation as a military garrison to its significance as the first tuberculosis hospital in the state, to an internment camp for German seaman during World War II.'.
First building description started with «This beautiful building…' which may be true back in 30s but as per modern style it's not that beautiful.
Some garbage on the lawn along with cute little flower.
Out of nowhere there was a bunch of cars on the parking lot as well as nicely built Harley with a side car. By the way it's for sale for only $7,250.
Museum keeper's first question was «How did you find us? Have you lost here?» 🙂 Apparently Russian tourists on a bicycle is not a frequent occasion here. I made sure it's true by looking at the registration book as there was none on 5 pages. Entrance is free although there is a tip jar right on the table. Fort Stanton is famous for the cave system which is closed to public now.
Small gift shop and couple of rooms with exhibits. Here is for example headless horseless horseman.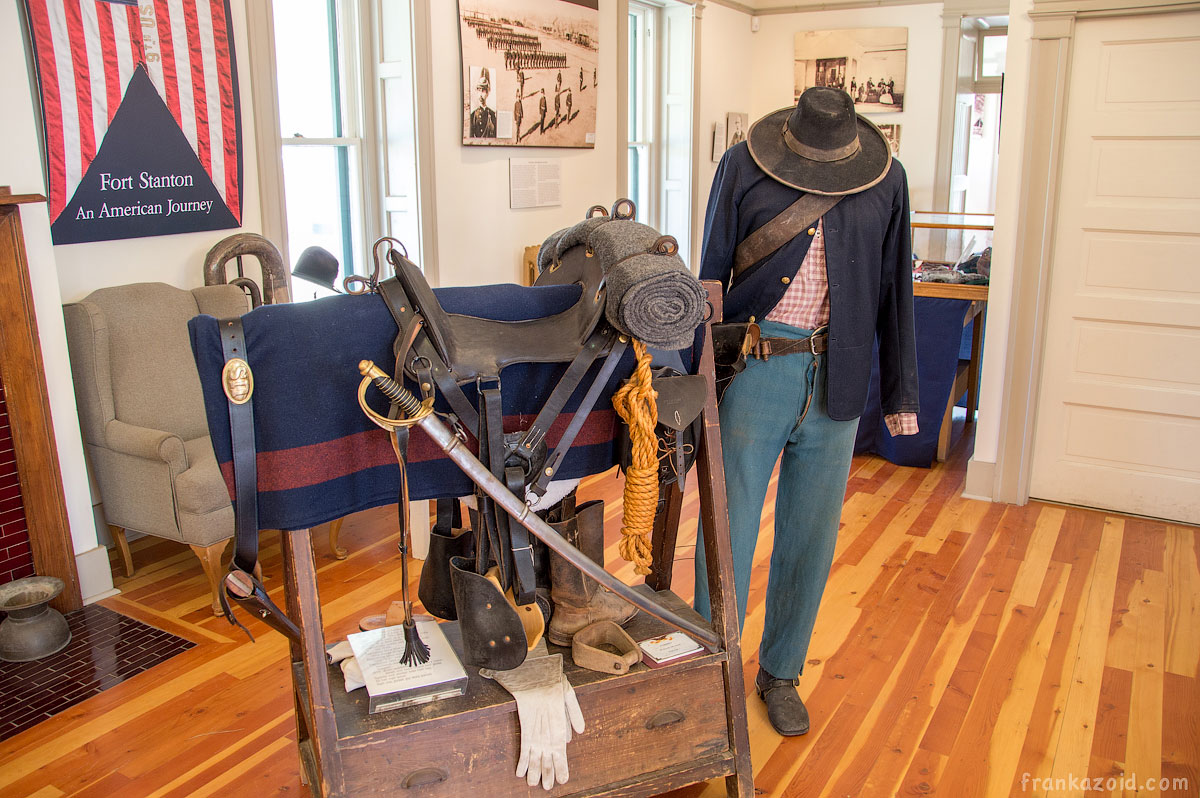 And this would be his bedroom I guess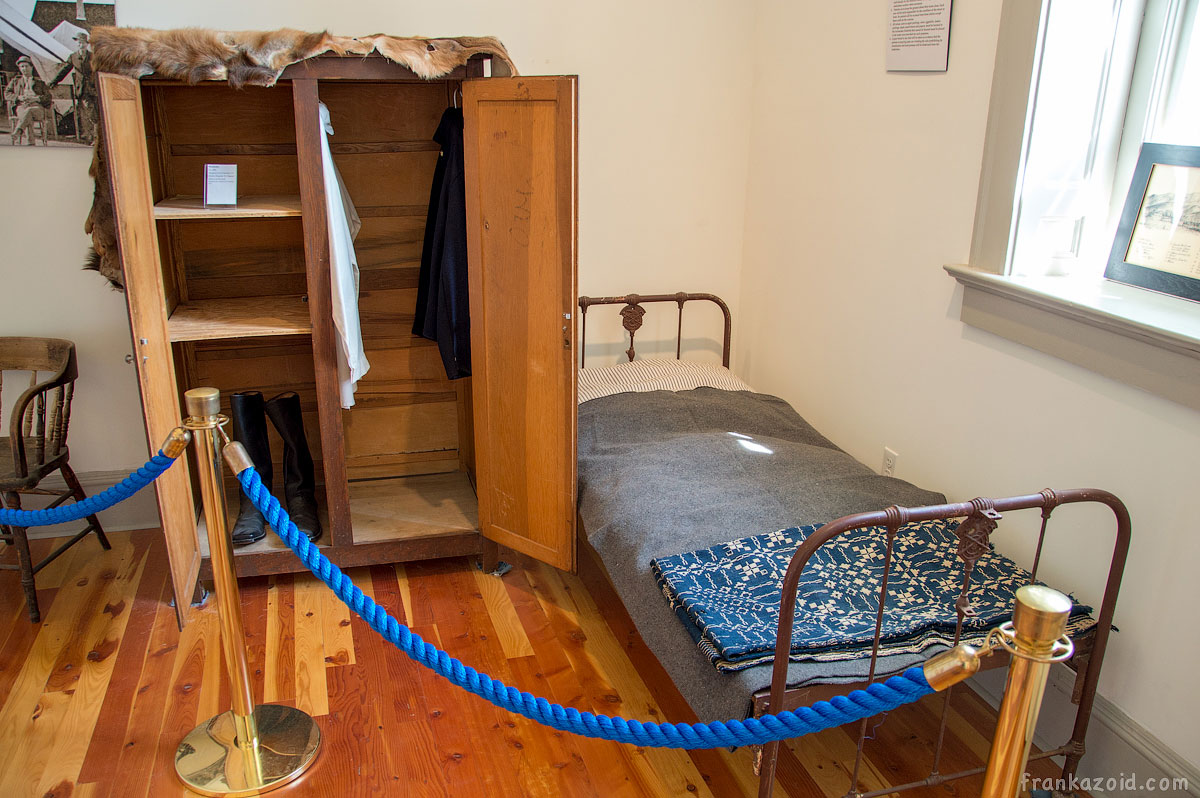 Although hw as headless he had phone and voice recording machine.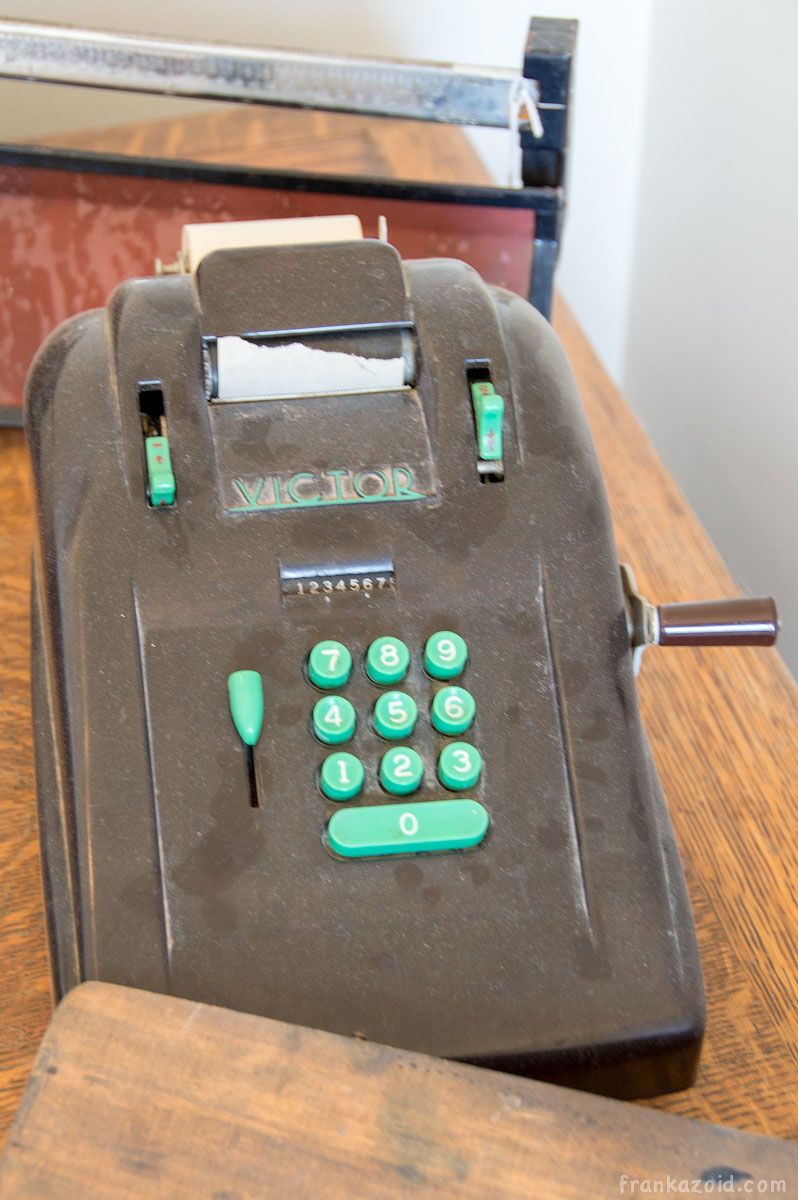 Right outside of a gift shop there is a nice green square a few houses situated around it.
Guard house, Adjutant's buiding, nurse's quarters, Chapel and more.
Quite obvious statement — Hole in the wall.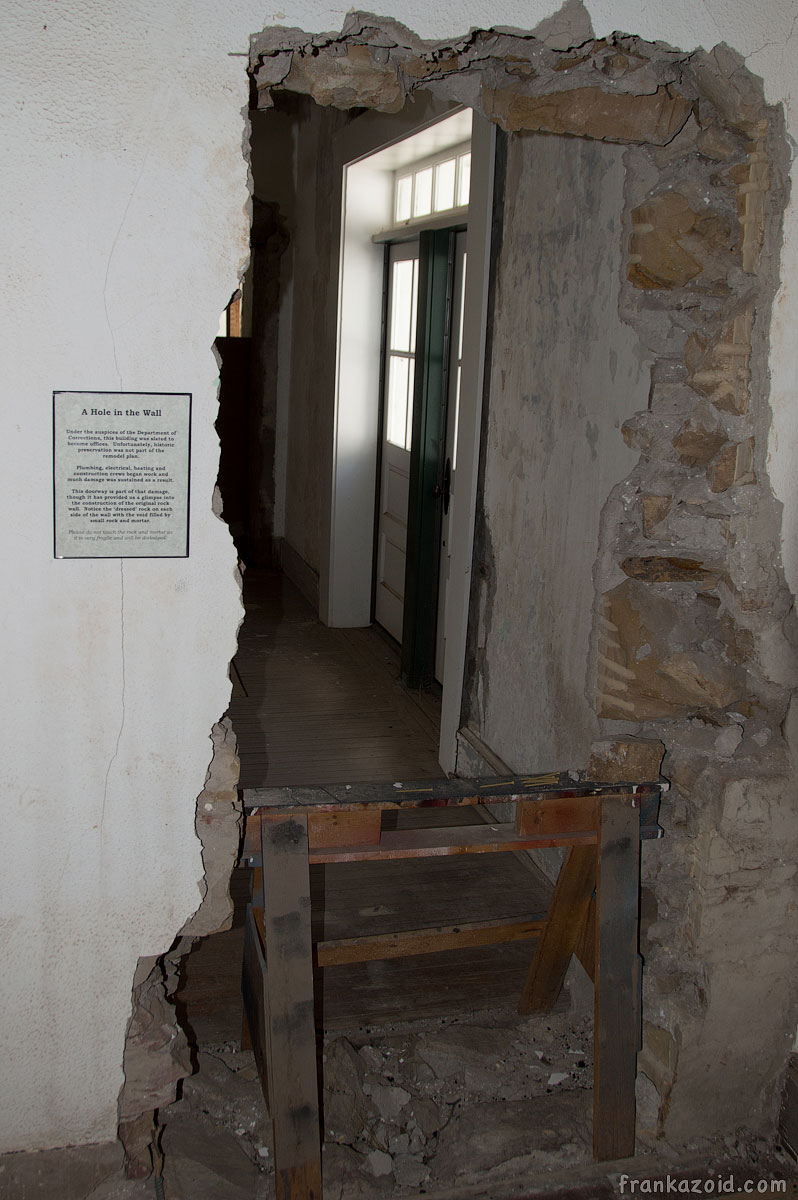 How do you like this room (about 330 sq.ft) so officer can wash his hands?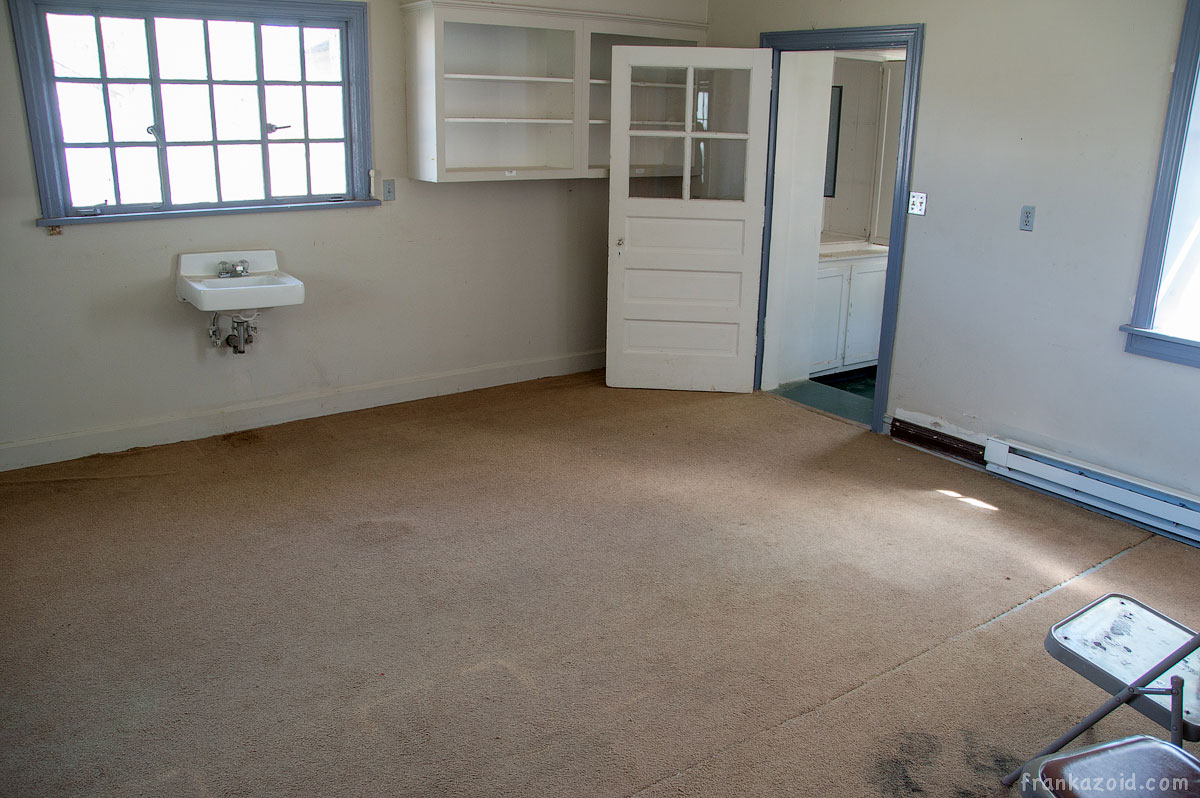 Caterpillar bird.
Even stables are here. That's first time I saw how horse scratching ear with it's leg.
Junior officers' quarters are nice town houses actually. Bathroom, kitchen, some sort of living room on the ground floor and pretty big bedroom upstairs. Seems like appliances have been renew but stop half way through the process.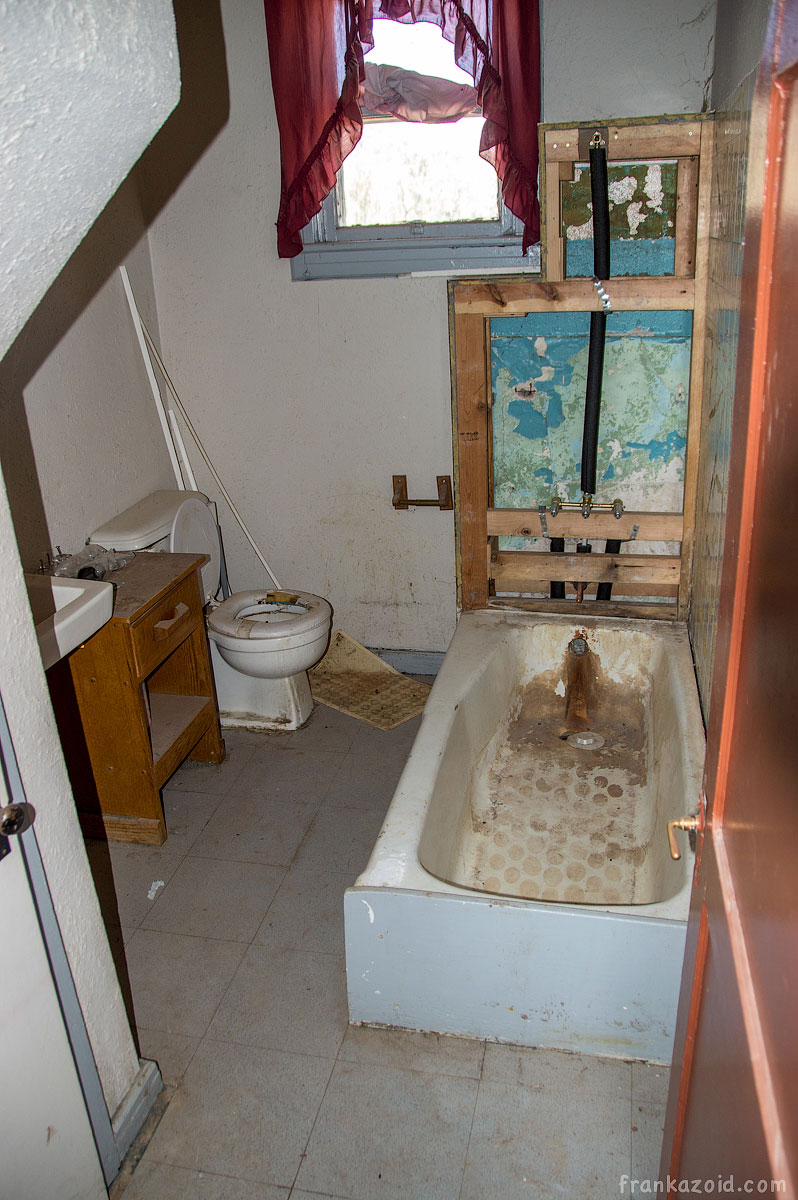 Dancing hall with fancy but ruined ceiling and asphalt fixed with a scotch tape.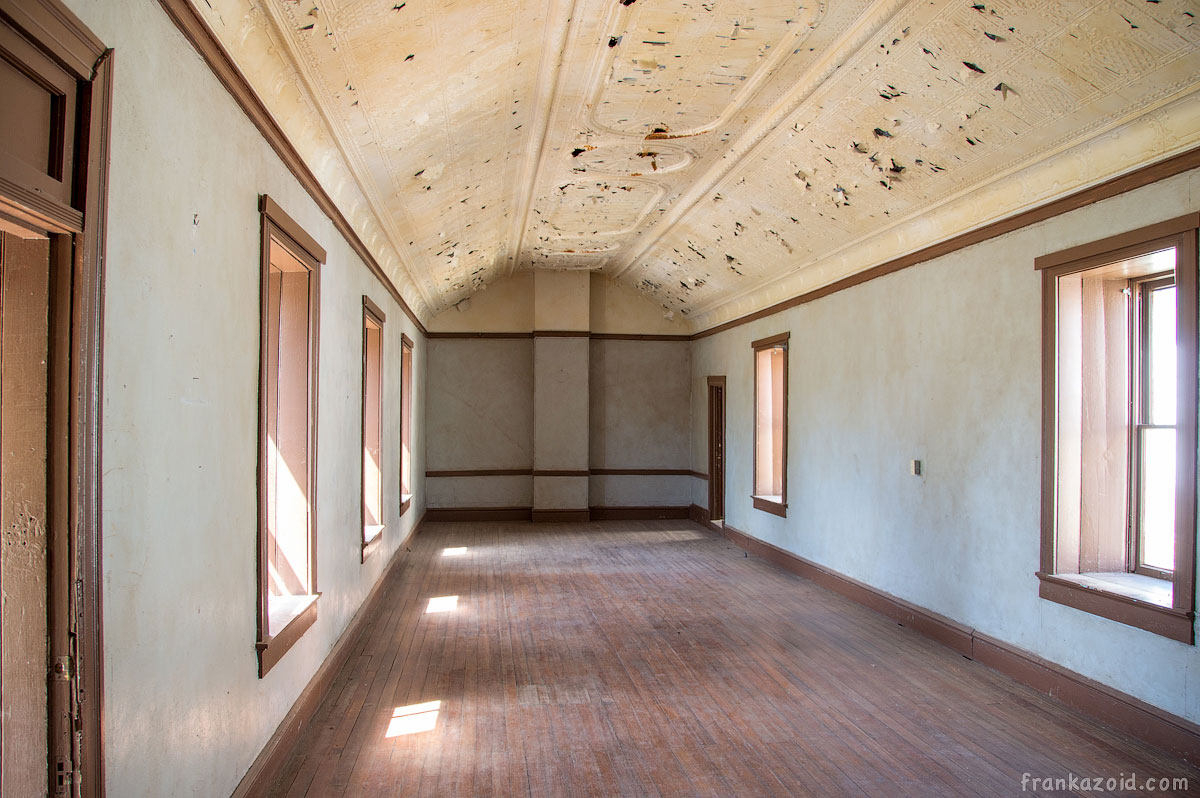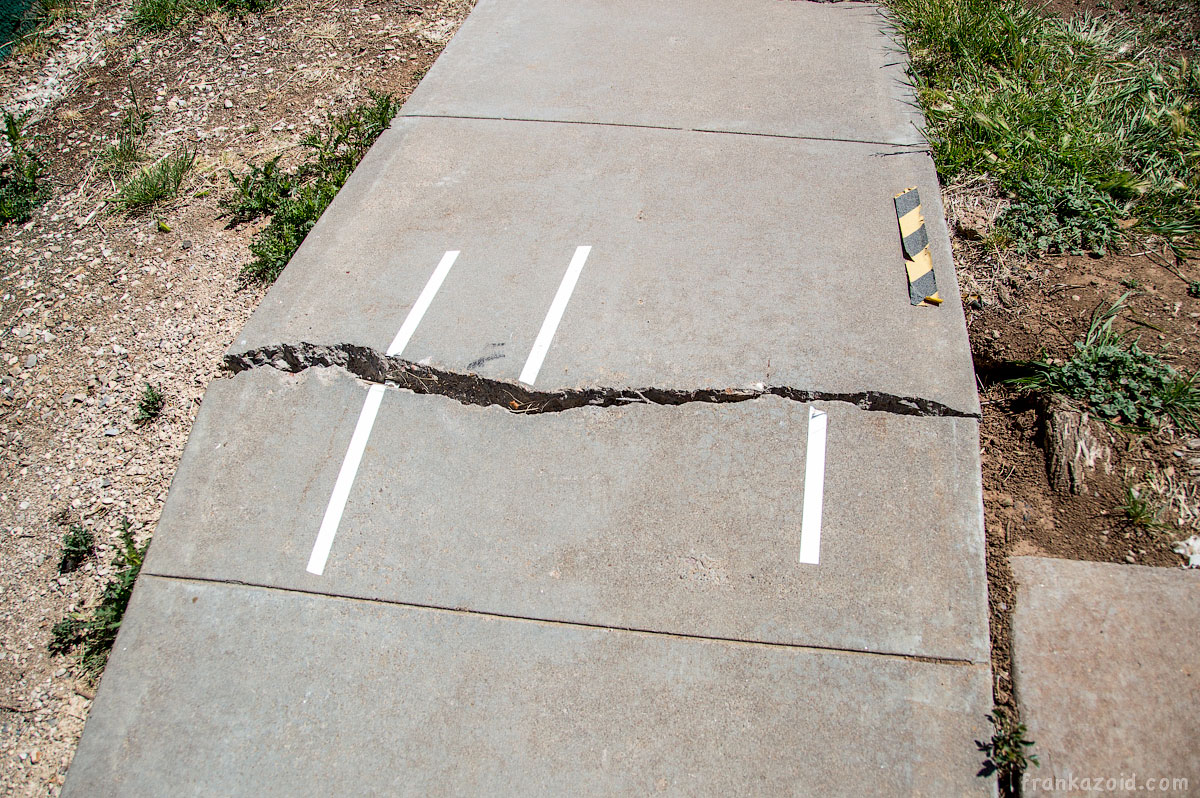 Here are real barracks. Sergeant's room and common space.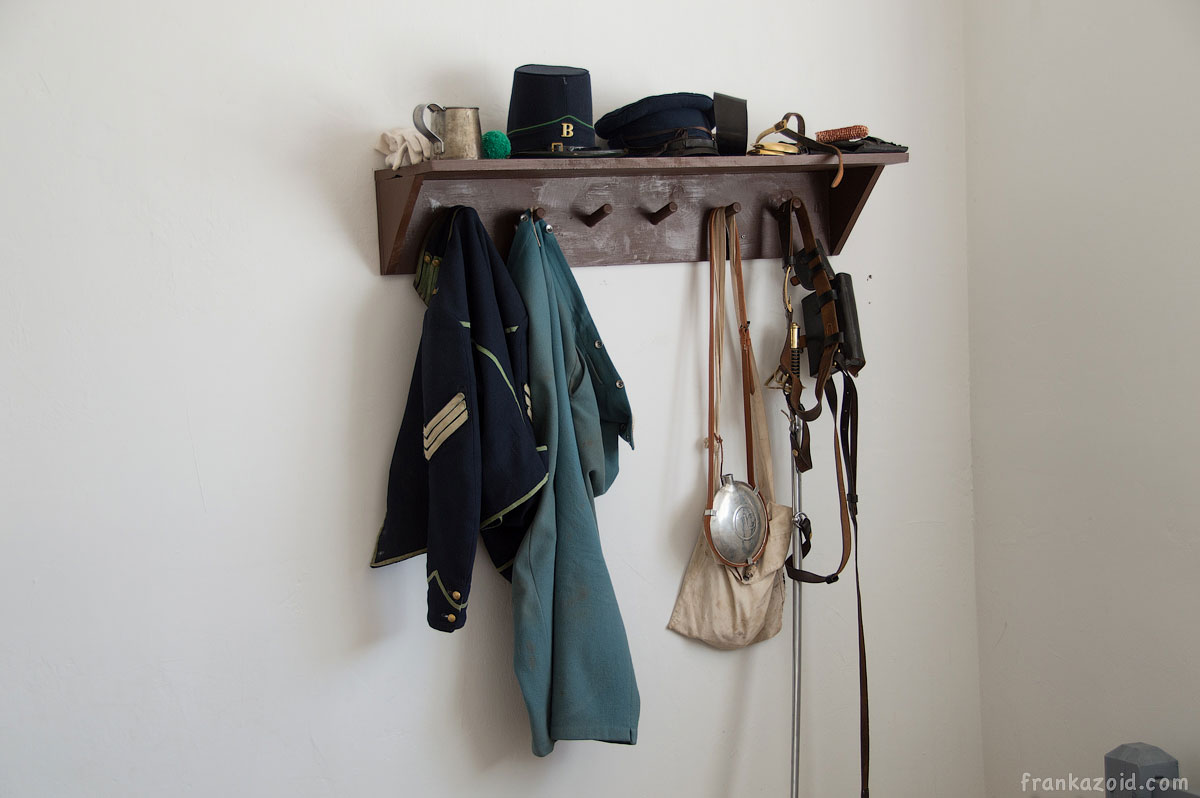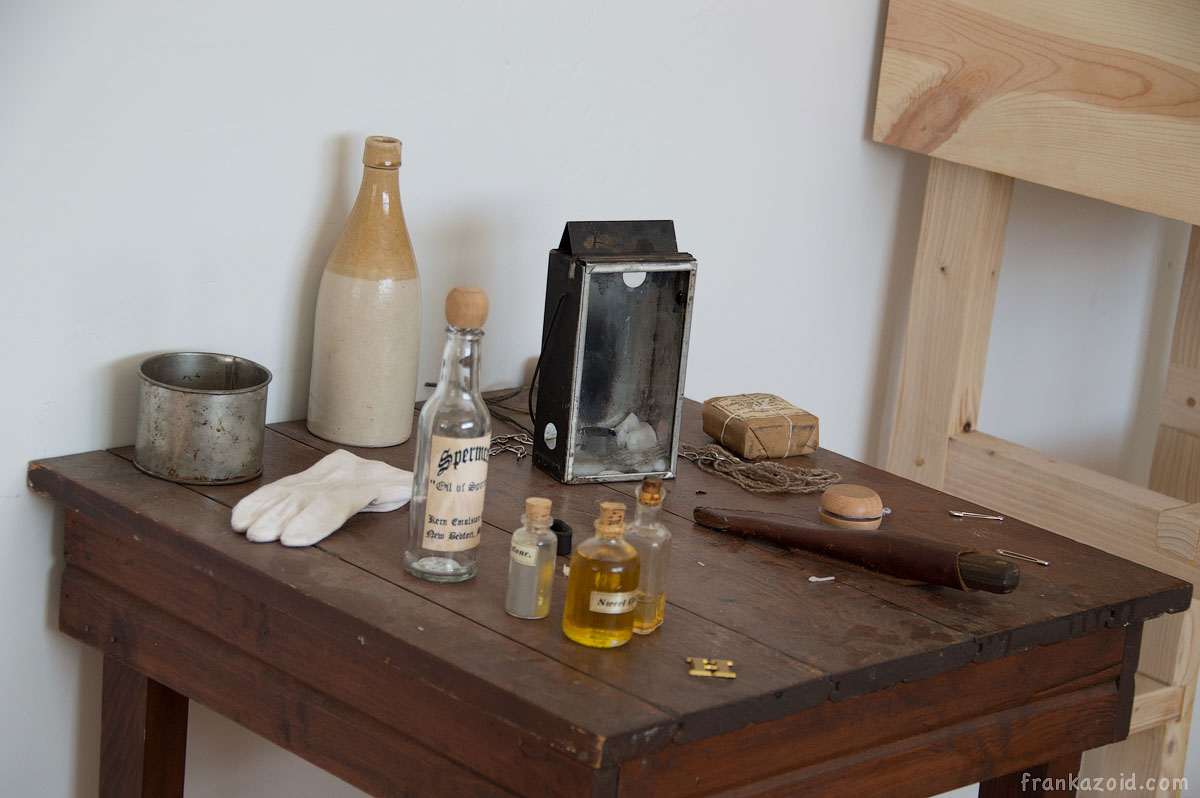 By the way apples are real!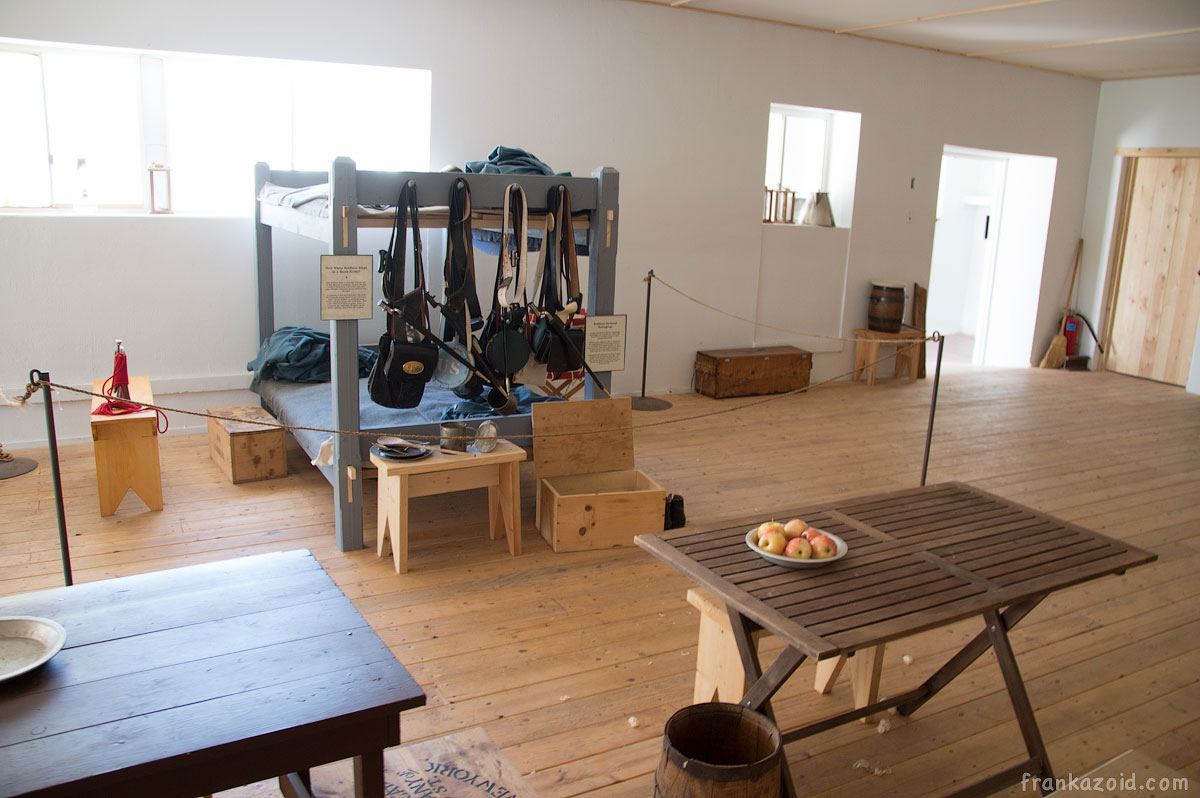 Unexpected fact — 4 people slept on this bunk bed.
Mid 19th century soldier (yes, this is a photo picture area, you can dress as a soldier).
I talked to the keeper and confirmed there is a trail to Capitan called Whiskey trail cause some soldiers were sneaking to the town for a drink at night.
Trail started more or less where I expected so I decided I'm only few minutes away from shopping. How easy to make a mistake here. For some time trail was going in the right direction though.
At some point my GPS asked me to turn north on another trail but I couldn't find any. Decided to follow compass direction and after 5 mins struggling in the field found the trail for another few minutes. There was a pretty steep hill and trail was going around it so I followed but in the end it turned back to Fort Stanton. Another half mile with no trail and I got to the highway. Anyway after 2.5 hrs and 19 miles I got to the town.
Before exploring local market I rode around town and found Smokey Bear museum. Heard of it few times but never thought about the story behind it.
Apparently in 1944 there was a Cooperative Forest Fire Prevention program and they invented the symbol — Smokey bear. 6 years later during catastrophic fire in Capitan Mountains orphaned bear cub was found on the tree. He recovered within few weeks living with a family here in Capitan and then arrangements were made to fly Smokey to his permanent home in the National Zoo in Washington, D.C.
Few posters with him.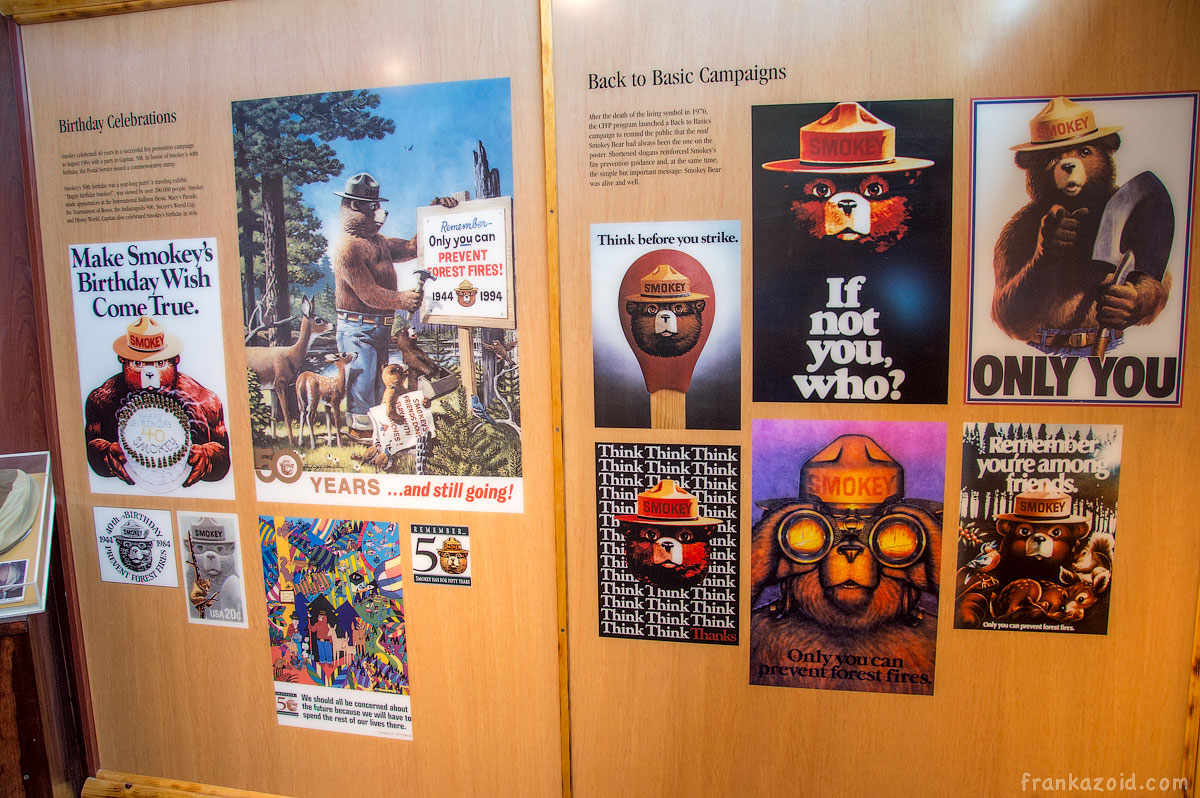 Smokey was on the radio as well. Interesting idea — if you are right beyond this hood it feels like radio is playing in your head 🙂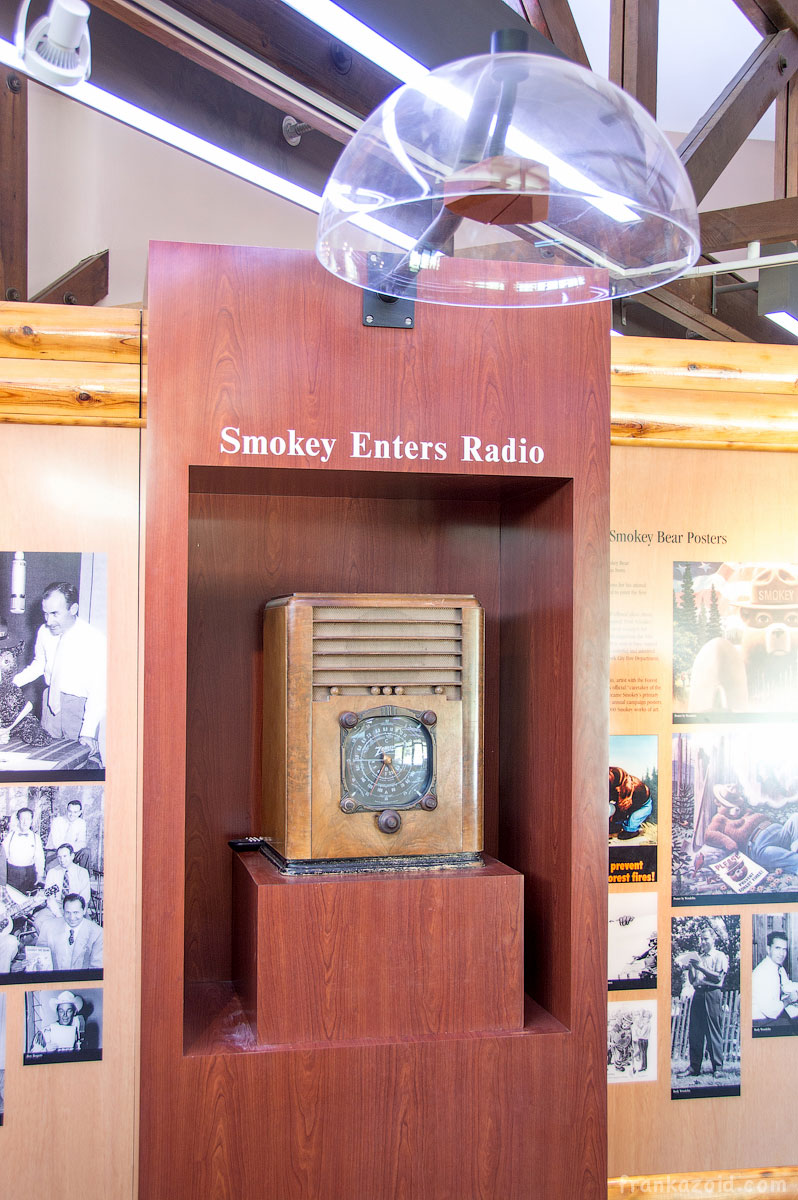 Behind museum building there is a 2 acres garden where Smokey was buried.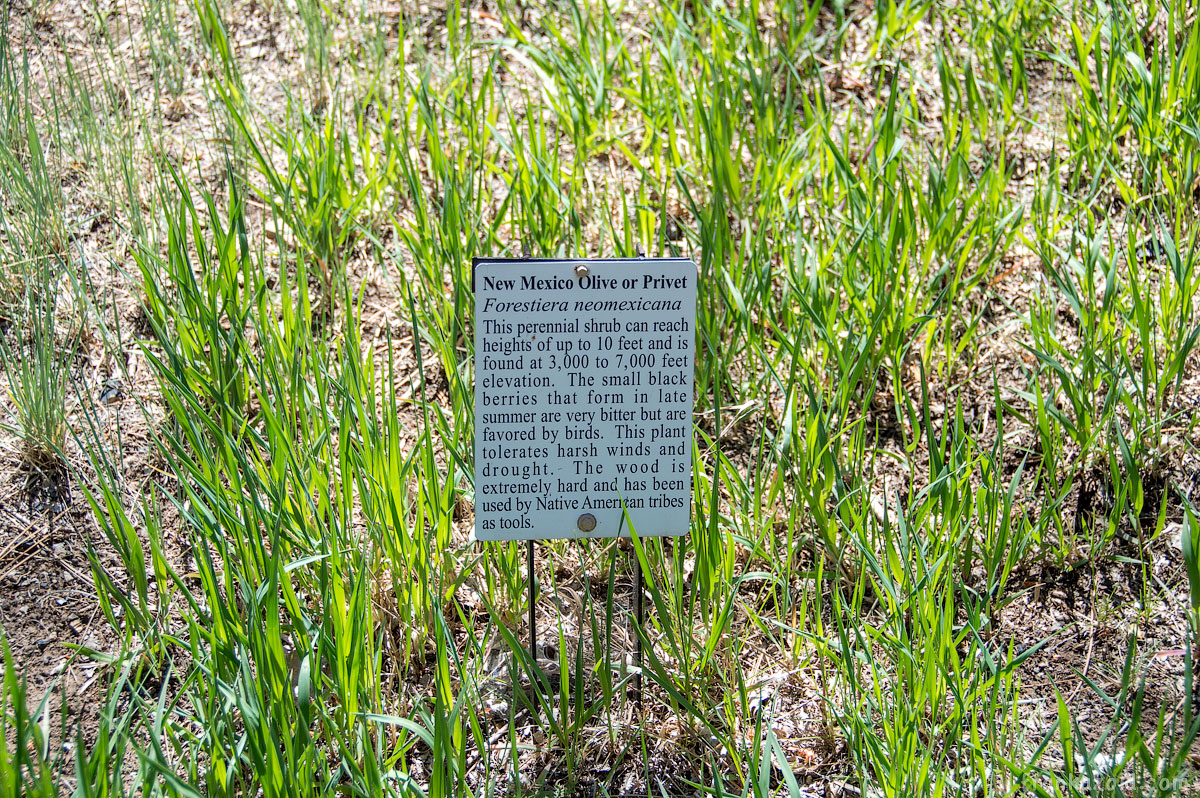 The road back without trying to find a shortcut took less that 30 minutes and was 6 miles 🙂