DIY with RV — Replacing limit switch / Atwood 8535
DIY with RV — Replacing limit switch / Atwood 8535
So, at some point (of course that was a coldest part of our trip in Yellowstone) furnace (Atwood 8535-III) started blowing cold air only. After reading numerous of articles/forums/manuals I started troubleshooting and found out that limit switch (don't confuse it with sail switch) is not working, therefore blocking furnace from firing up. To make sure I threw jump cable with +12V to the white wire on the control board, which did the trick, but also made thermostat glitchy. So from now on I had to turn thermostat on and start furnace using it's «tech switch», which is a jumper cable. Then turn both off when I don't need heat anymore. It won't stop/start to keep up with temp setting.
Ordered new limit switch (Atwood 37022 Hydro Flame Limit Switch 190 Degrees, around $15 with shipping) paying attention to get one with correct limit temperature and also trying to find out with RV manufacturer (for no reason I decided to contact them, not Atwood) whether it's possible to take sail switch out without taking the furnace unit out. As you probably noticed I mentioned sail switch, and they immediately replied that it's possible. When I corrected myself to limit switch they just stop replying.
Eventually I decided to try it without taking it out and no manual and create one myself.
Short answer is yes, it's possible, but I hope I won't have to do that again.
So here is a list of tools needed:
— philips screw driver (4 philips screws to remove furnace cover)
— 1/4 head to remove blower cover
— HW3 octagon to remove blower + 1/4 flat screwdriver
— 1/4 head (or long flat screwdriver) to remove limit switch bracket
— 2.4 small screwdriver to remove limit switch from the bracket
So I'm sure you can find this on your motorhome, remove 4 philips screws and the cover itself.
You don't have to remove the motor (which I was trying to do) so forget about right section of the furnace.
Next you need to remove the board. Disconnect both white connector and high-voltage wire, unscrew the nut on top and take it out (with black thing holding it).
Remove 4 screws holding blower cover (you might want to disconnect some wires for convenience, but make sure you took 'before' shot) and remove the cover (sail switch is in there, if you need to change it). Starting at this step I highly recommend to use tools with magnet heads (screwdrivers and heads) or extendable magnet to catch your screws.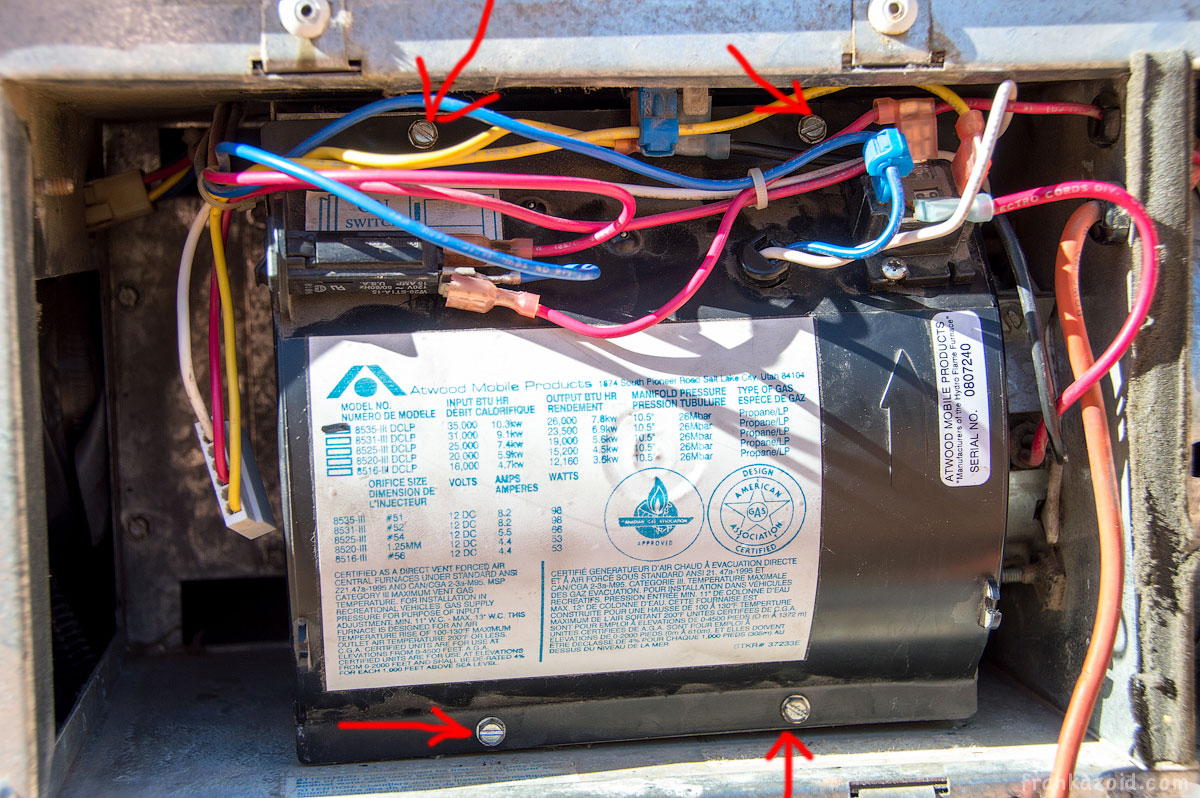 Next we need to remove the blower. Since I didn't have long HW3 octagon I made this
so that I can turn it with flat screwdriver. There is a hole in the blower between the blades, don't try to brake those — find the hole.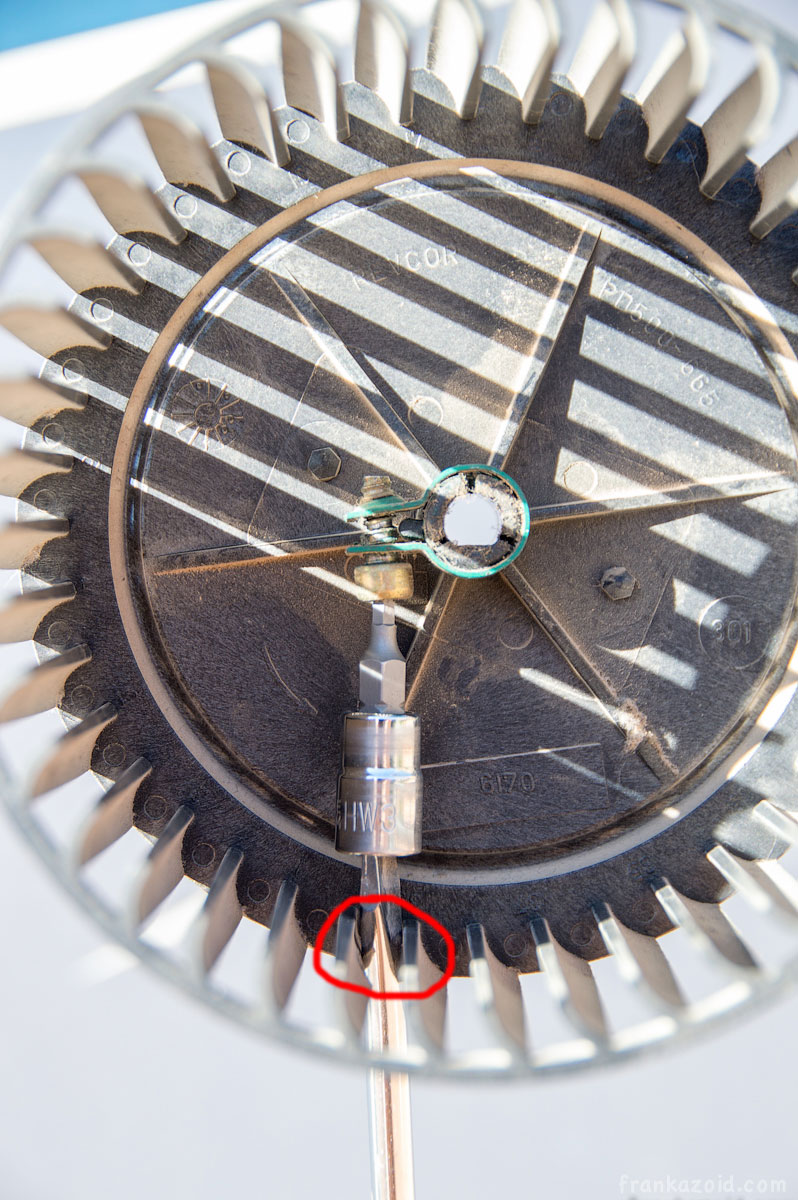 Gently take it off and voila — you got the access to the limit switch bracket. Be very careful unscrewing (and then getting it back) this screw — if it fells it is pretty much impossible to recover it. I say 'pretty much' cause I did it twice, but that's not easy.
When removed you can pull it out with a limit switch on it and couple of cables. Wires can be disconnected and there is no polarity so connect them back on any side of the switch.
I've never seen such head on the screw, but small flat screwdriver did it job.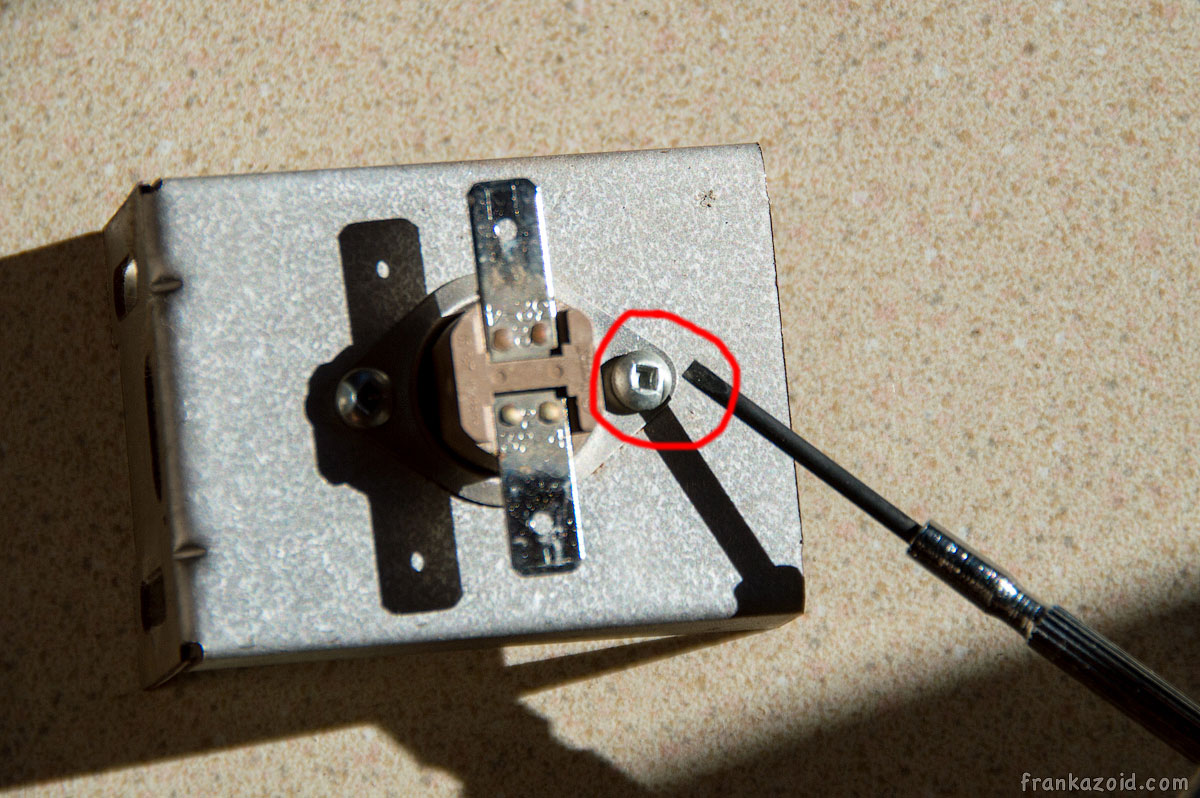 As you can see they are a bit different (new one on the left, with narrow connectors placed under different angle), but I just use pliers to make good contact.
To see if unit is functional just try it with multimeter — it should be normally closed (that's actually how I found out it's not working — got two cables going to the switch and checked continuity).
Now put it in the bracket, connect cables and try to put the bracket back in. I know it's limited space, but you can make it! Just please don't throw the screw in the furnace!
Assemble everything back and enjoy hot air 🙂
P.S. Since I had to re-do it twice I found this particularly useful to unscrew everything and screw it back.